We Provide Independent Living
Alegre Home Health Care, L.L.C. is committed to providing a means by which our health care professionals can include patients in their own health care decisions; reduce patient's fear and anxiety; help patients carry out treatment regimens; and promotes a lifestyle that improves the patient's own health and quality of life. Our goal is to provide the patient with the basic knowledge, skills and new behaviors that are necessary for the patient to participate in self-management, recover from illness or injury, and achieve Better Health!
We value each patient as an individual first, but also as an important member of his or her family and community. We cater to each patients needs whether it be physical, emotional, psychological, and spiritual support, regardless of sex, race, color, creed, national origin, economic status, and religious belief.
We believe that Alegre Home Health Care, L.L.C. has a responsibility to provide professional, comprehensive, quality care to all of our patients.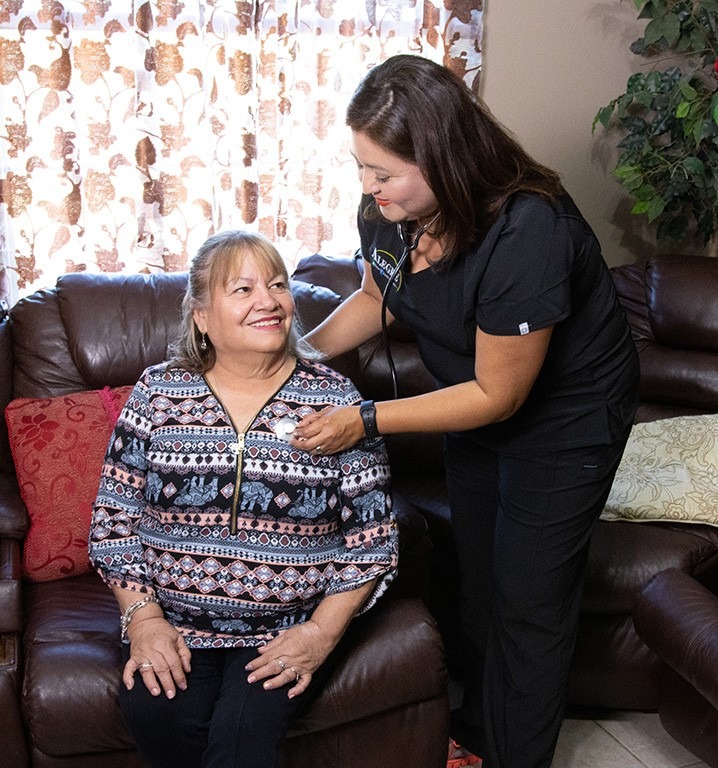 We believe that home health care is integral part of our patient's health care system, and that we must promote cooperation and coordination of care among all health care providers.
We believe that it is necessary to periodically evaluate the performance of our personal as well as the activities of Alegre Home Health Care, L.L.C. to assess the effectiveness of our services, and to verify that the entire patient's care needs are being met.
1904 East Griffin Parkway
Mission, Tx 78572
Ph: 956.668.7730
Fax: 956.668.7732
4242 East Piedras Dr #102
San Antonio, Tx 78228
Ph: 210.200.8781
Fax: 210.569.6366
4115 Trowbridge Dr
El Paso, TX 79903
Ph: 915.209.3114
Fax: 915.351.1222
2149 Del Río Blvd. Ste 301
Eagle Pass, Tx 8852
Ph: 830.319.9101
Fax: 830.457.6044
Corpus Christi, TX
Ph: 361.271.1114
Fax: 956.668.7732
Ph: 512.434.0994
Fax: 512.233.2202
Ph: 432.247.8602
Fax: 432.299.3102